AcadArena Scholarships & Aid: Valkyrae's Homecoming Scholarship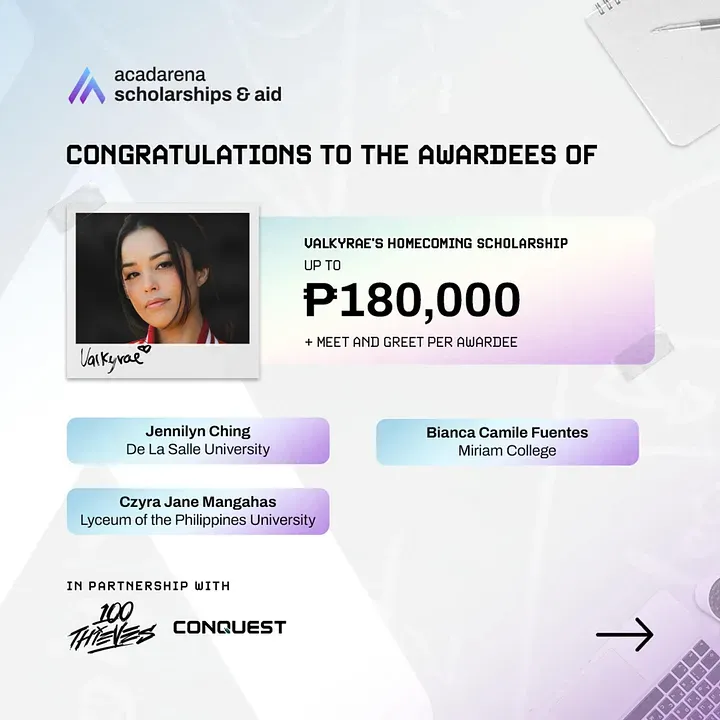 Manila, Philippines — The gaming community in the Philippines is buzzing with anticipation as Valkyrae, one of the most influential and beloved content creators, prepares for a long-awaited return to her homeland. To celebrate this momentous occasion, AcadArena, a leading esports and collegiate gaming organization, has announced a scholarship program that perfectly captures the essence of Valkyrae's "homecoming."
AcadArena's Homecoming Scholarship: In honor of Valkyrae's return, AcadArena has introduced the Homecoming Scholarship program, which serves as a testament to the organization's commitment to the growth and recognition of esports and gaming in the Philippines. This scholarship opportunity is open to Filipino students who possess a passion for gaming while demonstrating the ability to effectively balance their academic responsibilities.
Three Filipino students who demonstrate a passion for gaming while effectively managing their academic pursuits have won a full ride scholarship worth up to PHP 180,000 each. This remarkable initiative aims to recognize the talent and dedication of Filipino gamers and support their educational journey.
Jennilyn Ching from De La Salle University
Bianca Camile Fuentes from Miriam College
Czyra Jane Mangahas from Lyceum of the Philippines University
The announcement of Valkyrae's return to the Philippines has set the stage for an exciting collaboration between AcadArena and the gaming community. The Homecoming Scholarship program, offering full ride scholarships to Filipino students, demonstrates the commitment to recognize and support the talent and dedication of gamers who effectively manage their academic pursuits. As the esports and gaming industry continues to thrive, this initiative paves the way for a promising future where the passion for gaming is celebrated alongside academic achievement.